偶尔的休息放松 一个人的酒会_#4
Take a break once in a while , Eisen←#4
Today, we had a family dinner. I went my parents home early because my father bought a bottle of saki that my parents happened to be told was good saki at the Bandaiyama brewery.
今天我爸爸买回来了无意中家里人说的在磐梯山酿酒厂的挺不错的日本酒
我就尽早地回家了。
2007-2017 – "Highest Gold Award" winner (11 consecutive years)
"The limpid water gushing from the foot of Bandai West Mountain, designated as one of the 100 best waters in Japan, is directly reflected in the softness and smoothness of the saki." Excerpt from Japan prestigious liquor party.
2007~2017年受到了(最高金奖)连续11年
被选进日本名水百选的从磐梯西山麓涌出的清冽的泉水,就那样还活在这酒质的轻柔与顺滑之中。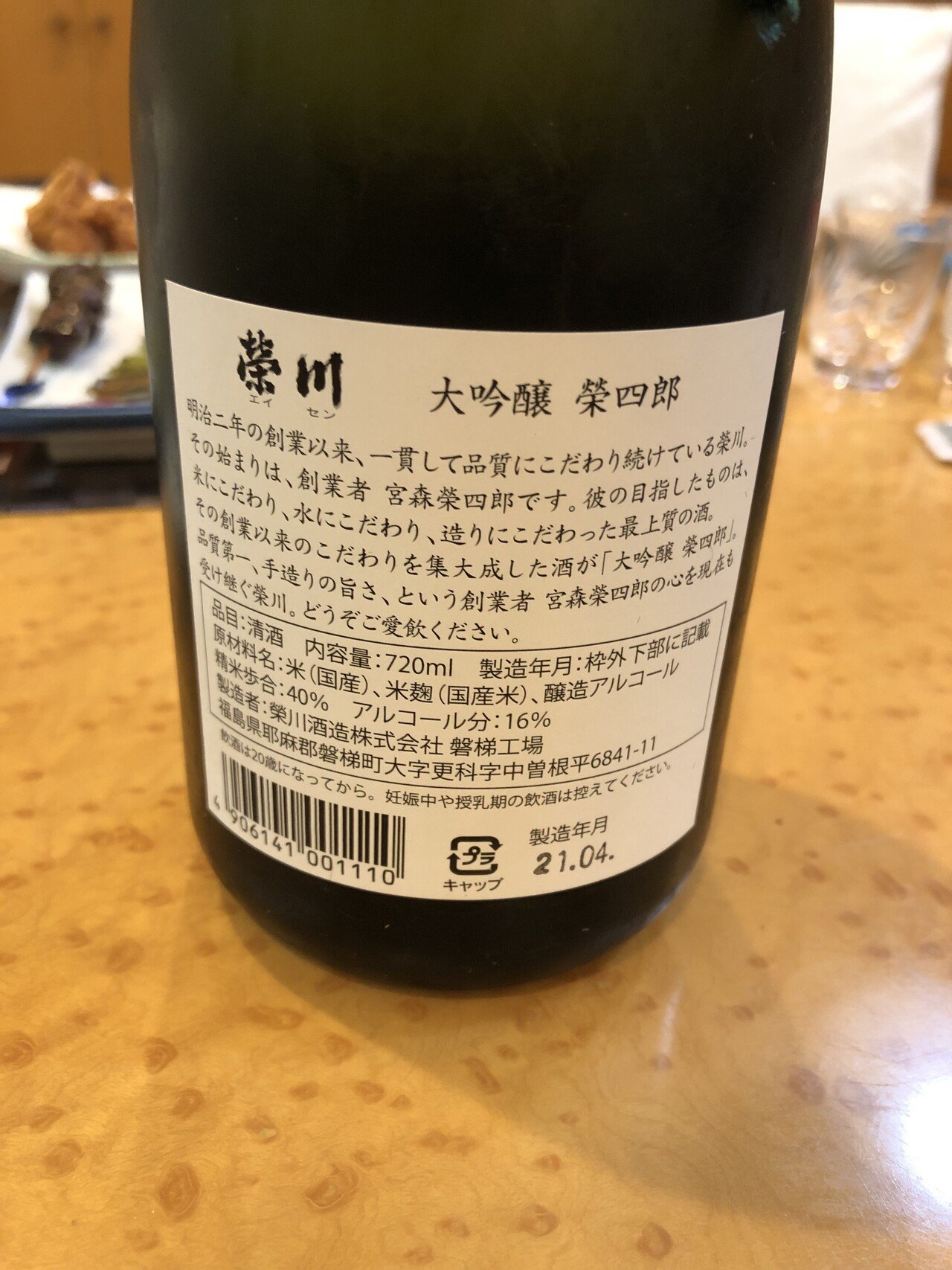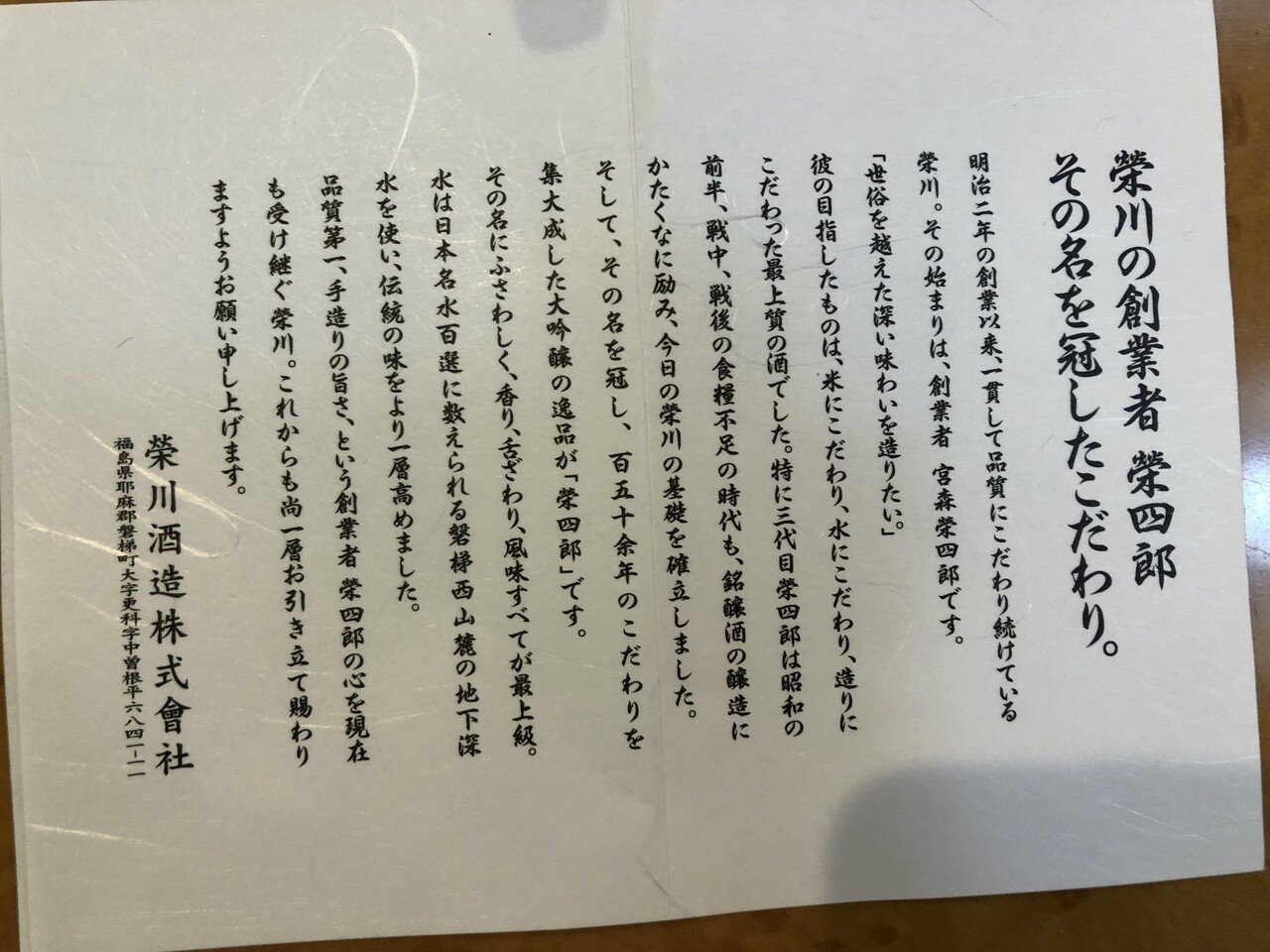 It has an aroma reminiscent of melon and a clean, yet mellow and soft mouthfeel.
Melon…
Not in that way…
I don't really get this analogy every time.
In my opinion, it's not a melon, but a ginjo-shu, similar to Kubota.
It was chilled in the refrigerator, and the temperature that day was probably between 20 and 24 degrees Celsius.
The first bite has a refreshing aroma that is unique to ginjo-shu, and the second bite has a refreshing sensation that is easy to drink. The third bite has a mellow taste. By the fourth bite, you are drunk and fluffy.
Probably because the temperature of the saki rises a little more than when it was taken out of the refrigerator.
It seems that the mellowness has come out.
It is ideal for sashimi, japanese simmered food, and other light dishes.
Half of the bottle will be empty before you know it. I've had it somewhere before. Delicious saki. I ended up drinking it all with my parents.
Thank you for reading to the end.
If you find it interesting, please follow me.
And please come visit me in Japan.
——节选自「日本名门酒会」
会让你想起甜瓜的香气和清爽之中也有醇美,轻柔的口感
甜瓜??…
这种感觉…
话说回来每次这个举例总是感觉难懂总差一点
我自认为并不是甜瓜,而是接近久保田的吟酿
给它放进冰箱里冰着,我想当天的气温从20度升到了24度
口感很好,第一杯是吟酿就特有的爽快的香气,第二杯是已经习惯了之后非常容易入口。第三杯是纯美的口感。第四杯已经是有些酒劲已经有些飘然。
或许是因为比起我从冰箱里拿出时,酒的温度稍稍有些上升,更能出现更多醇厚感。
和刺身,煮物,白汁红肉之类的清爽的料理很搭
回过神来酒已经空了半瓶。像是在哪喝过这个酒。
真是好喝的酒。最后我和父母全都给喝光了。
I drink sake (Ginjo)every day and tell people overseas …

---